Seán O'Donnell started taking bagpipe lessons at age 7 after the bagpipe band his uncle drummed for entranced him. The Pittsburgh-area native's obsession with music spread from there a few years later when he found his father's acoustic guitar. After his dad taught him his first guitar chords, he began spending unhealthy amounts of time making layered, two-track recordings on his parents' multi-deck cassette player.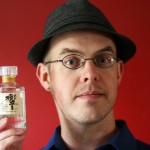 Today, his original recordings combine a lo-fi, DIY ethic and influences spanning decades and genres. Described as "sweet pop-inflected tunes ranging from folk to psych-rock," his music comprises smart, poignant lyrics, memorable melodies, and lush arrangements. In live performances, Seán trades whistles and bells for passionate vocals and a distortion pedal. Imagine the Clancy Brothers covering the Violent Femmes, and you'll start to get the picture.
Seán's first solo EP, Catching the Ghosts , and a subsequent single, "Carry Me Home," are available through iTunes, Amazon.com, eMusic and other online retailers. Seán's first full-length album, Emotional Apocrypha of the Bubblegum Gospel, was released June 2010.